Hamilton Aerial Group (HAG) is a circus arts collective located in Hamilton Ontario. We create educational, highly artistic and entertaining performances for the community.
We specialize in aerial arts and stilt walking, and in producing high quality theatrical performances with extraordinary costumes. We produce our own cabaret style and theatrical shows (e.g. La Nuit du Vagabond, La Nuit du Frisson) and we are available to hire for events.
Through our performances and our workshops we seek to create meaningful experiences to help people feel connected and inspired. We are committed to engaging audiences from all walks of life.
We are a federally and provincially incorporated non-profit. The group is made up of 16 core members who bring a diverse range of skills to our collective. We just love performing together.
History
HAG began as a grassroots troupe in 2010 spearheaded by Lori Le Mare. HAG began its operation out of the Jamesville Community Centre in Hamilton. After 4 years of operation, HAG's membership and reputation grew, resulting in a move to a studio space at the Cotton Factory, located at 270 Sherman Avenue North. After many years operating as a collective group model, but under the leadership of Lori, HAG became a non profit organization in 2021 distributing its leadership amongst 16 members.
HAG has been a headlining act in Hamilton's Winterfest annually since 2014 and we have been seen at the Ancaster Fair, Supercrawl, as well as the Hamilton Fringe Festival. We are constantly working on new material and thematic content for our shows, and in 2015 we brought in an outside artist to teach us stilt walking. Stilts are now present in all of our shows.
The HAGs
Yes, we like to call ourselves HAGs. HAG is a family of people with all sorts of artistic backgrounds:
Lori Le Mare makes her living as a visual artist and art restorer. She became an aerialist in 1998 and later a performer in the Toronto troupe GravityWorks. After moving to Hamilton in 2009, she formed HAG with interested people from the community. She produced numerous cabarets for the Lyric Theatre and produced and performed in community events as well as HAG's first full-length award winning play, 'The Hangman's Reprise', which was performed at the 2013 Hamilton Fringe Festival and 'Apoidea: A Bee Story' in 2016. In 2017 Lori conceived and produced The Paradise Project, a show celebrating the natural world. Lori won the 2017 Hamilton Arts Award in the dance and performing category. She continues as artistic director, aerialist performer and stilt walker for
Hamilton Aerial Group.
Tanis Sydney MacArthur has been a member of Hamilton Aerial Group since 2010. She is an interpretive dance artist, choreographer, aerialist, stilt walker, prop maker, costumier, creature designer and sculpturist. She creates much of the costuming for HAG and has also costumed Aeris Korper, Femmes du Feu, Red Betty Theatre, Steel the Sky Aerial Arts, Learie McNicolls, TEAM T&J, Mabel Moon, Aoucheva Dance Company, Defining Movement Dance and Artword Theatre among others. Tanis performs with HAG and revels in the more unusual and atypical applications of the circus and movement arts, in particular, site specific and installation style works. She studied a range of movement styles including modern, ballet, jazz, tap, bellydance, flamenco, african, irish, ballroom, yoga and somatic. Select examples from her dance history include move (Peggy Baker), KRIMA! (Maxine Heppner), Ontology (David Hudson Dance Company), Hamilton Site Specific Dance Festival, Big Hill (Megan English, Dusk Dances Hamilton), Incandescent (MeredithThompson/Kate Franklin, Dusk Dances Hamilton) and Once I Lived in a Box , The Crossing, Seven Duets, Untitled Solo (Learie McNicolls). She is a member of the Artword Theatre Ensemble and performed as an actor/dancer in You Are What You Do, Rascals and Numskulls, Langston Hughes and Tobacco Troubadour. Tanis still holds down a part-time job as a picture framer, loves a good nature hike and a solid lake swim.
Lisa Crapsi credits her interest in fitness and all things unconventional for leading her to the Hamilton Aerial Group in 2010. Lisa began dance at a young age but did not continue to pursue it past the age of 15. Lisa believes that it was seeing Lori LeMare's performance at Jamesville Community Centre that sparked her love for dance again. What Lisa enjoys most about this craft is the mix between strength and beauty. She continues to be a proud member of the team and is so grateful for the experiences, opportunities and friendships that have developed from being a part of the Hamilton Aerial Group.
Laura Hunt is happiest when she's upside down. She is a gymnast at heart and her love for acrobatics has taken many forms over the years. She has experience in ballet, cheerleading, acro-balance and yoga. The Hamilton Aerial Group allows her to combine her interests and it is the perfect outlet for creative expression. Laura loves exploring movement and collaborating with other artists.
Asia Laviolette first became fascinated by aerial silks while watching a performance when she was on vacation and decided to try a class "just for fun". She was immediately hooked and joined the Hamilton Aerial Group not long after. Asia has always been extremely active and throughout her childhood, participated in just about every after school activity possible (even though she was terribly uncoordinated at conventional sports). Although her competitive dance experience from ages 3-13 provided her with a foundation to pick up aerial arts quickly, Asia never felt that dance was quite the right fit for her either. Finding circus arts as adult has finally given her the passionate creative outlet that she had been searching for. Asia is a speech language pathologist by day as well as the mother to one very active and inquisitive toddler.
Tricia Cook was introduced to the thrilling heights, physical challenge and energetic community of the early stages of HAG in November 2011. Since then she has been performing in fundraisers, festivals, corporate events, and theatre shows. When she is not getting tangled in the fabric, scaling a rope or stilt walking she is traveling, teaching, building things, growing vegetables, and studying.
As a young person, Emma Smith was always engaged in activities that challenged her physically and mentally – be it through dance, martial arts, theatre, building, or team sports. As an adult looking for a social and athletic hobby, Emma discovered aerial dance at Circus In The Trees and found it to be the perfect blend of physical feats of strength, artistry, and community. She particularly enjoys exploring circus as a lens for storytelling and conceptual expression. When she is not climbing and moving with the Hamilton Aerial Group, Emma works as an award winning ceramic artist, carpenter, and mason in the rural Hamilton area. Be it through clowning, dancing in the sky, building brick walls or arranging home grown flowers in a vase she made, Emma delights in small, everyday moments, and aims to share those reflections in the many mediums she explores. Photos by Alissa Baltazar
Sarah Perkins discovered HAG through the Hamilton arts scene in the early 2010s. She first clumsily got on some silks that were rigged at a party and loved it! Sarah continued to casually drop in on HAG practices when she could, and was lucky enough to join HAG in 2015 as a stilt performer. Sarah loves the challenge and artistry that comes with climbing to new heights, and enjoys incorporating theatrics and clowning into HAG shows. The collaborative energy and creative power of HAG and its members excites her, and encourages her to reach deeper into her own artistic ability.
Outside of HAG, Sarah is an osteopathic manual practitioner and teacher. She loves to work with her hands, volunteers in animal rescue, enjoys music, and keeps on the pulse of Hamilton's political landscape.
Photo by Ramucy

Tammy Penny became interested in aerial silks when she saw an outdoor show during one of Hamilton's art crawls. She had been a competitive provincial trampolinist during highschool, and has missed the sport since having to stop during university. Learning aerials has been the perfect mix of art and acrobatics for Tammy, and she is thrilled to be a part of HAG. Tammy works as a registered nurse and likes to explore many hobbies on the side such as painting, running, playing music, and juggling.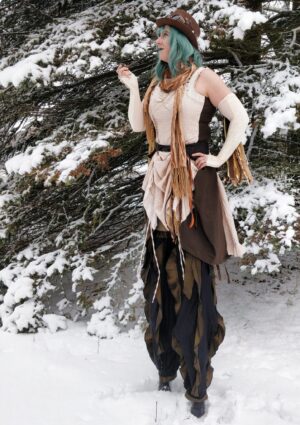 Michelle Prosek – All it took was a one day introductory circus class, and it was love at first inversion. Michelle has been training as an aerialist since 2011, and joined the Hamilton Aerial Group in 2015. Aerial performance is a perfect combination of focus, art, and creativity which brings together years of Michelle's accumulated experiences ranging from glass arts, competitive swimming, performance wear design, aerial yoga, science, and holistic health practices.
While her focus is on stilt performance, aerial sling and silks, Michelle is also exploring performance on corde lisse, and as a flow arts performer using rope dart, levitation wand, juggling, and poi! Website: http://michelleprosek.com
Stephanie Park is a dancer, stilt walker and theatrical clown. Her delight is rooted in deep and playful interactions with others that provoke movement, joy and wonder. She studied clown with John Turner (of Mump and Smoot) and with Helen Donnelly (of Foo Productions). Her clown performances include a solo performance as Wooshla at April Foolery 2017 (a fundraiser for Mental Health), and HAG events: an archaeology conference, La Nuit du Frisson, The Paradise Project.
A member since 2016, Stephanie also brings a background of dance (ballet, salsa and swing dance) into her performances. And on stilts, she loves to bring in her clown and play with the audience.
Outside of HAG Stephanie is a Registered Psychotherapist in private practice, a mom, wife and an aspiring urban farmer.
Sarah M developed an interest in the performing arts in her teens and has been training in music and dance ever since. Sarah focused on ballet, contemporary, hip hop, and jazz earlier on and since then has transitioned to aerial and acrobatic training. Sarah has trained at numerous dance studios in Canada, Mexico, Colombia, Thailand, and Spain. Sarah intends to continue to develop as a performer and artist and loves sharing her skills with others. Sarah is also a singer who has trained in opera, musical theatre, and pop music. Sarah has sung with community choirs, at weddings, and with GTA classic rock bands. Sarah joined HAG in 2017 and has been addicted to aerial ever since.
Jennie Raymond – With a history of Yoga, belly dancing, and pole fitness, Jennie never enjoyed conventional ways of exercise. Looking for a way to get a little higher, she fell in love with the aerial silks in 2017 and joined the Hamilton Aerial Group. When she's not wrapped in the silks, she's wrapped up in her children, and her knitting.
Emma DeBono started her aerial journey in 2009 at the Detroit Flyhouse and hasn't looked back (or down!) since. A social worker and child & youth therapist by day, and aerial acrobat by night, Emma sees the movement arts as a healing practice. Emma has trained as an aerialist under expert coaches in Brazil, the USA, and in Toronto, where she lived from 2012 to 2020. Emma completed her circus instructor certificate from the National Circus School in Montreal in 2016, coached recreational aerial classes to audiences of all ages, and has interned and worked for Toronto's various Social Circus organizations. Most notably, Emma had the privilege of supporting LookUp Theater's mental health youth circus as a mental health counsellor and aerial instructor, and in 2018-2019, as artistic director. Highlights from Emma's circus life include travelling to Kangiqsujuaq, Nunavik, to teach with Cirqiniq's social circus summer camp; performing for the Regent Park Pathways to Education graduation ceremony in 2017; and the countless nights spent out late at the aerial gym, playing in the air and learning new tricks with her circus family.
Maria Hay began her aerial journey in 2019 and has been an avid aerialist ever since. Maria took gymnastics as a child and later diversified into other areas of fitness including yoga, cheerleading, belly dancing, cross fit, swimming, and boxing. Maria has been working on developing herself artistically, trying different apparatuses, but has found a passion for the aerial hoop lyra. Outside of aerial, Maria volunteers with a program that runs weekly fitness activities for youth in Hamilton and has a passion for photography. Maria adores animals and is a fur mommy to two adorable dogs. At 5 feet tall, Maria loves to remind the world that sometimes great things come in tiny packages!
Grace Loney was introduced to stilt walking in 2017 and was captured by the physicality and heightened perspective. She has performed with Hamilton Aerial Group since and enjoys the collaborative and supportive spirit of the HAG community and as well as inspiring audience imagination with character, costume and circus movement. Grace brings experience grown from diverse explorations and performances. She loves to create as a maker of visual, sound and movement artworks. Since 1985, her painting and sculpture have been shown in galleries and events including Glenhurst Art Gallery of Brant, Grimsby Art Gallery, you me gallery and Boris Brott Festivals. Her musical performance since 1990 include vocals and percussion with Ruth Sutherland, African drumming and dancing with M'Baye Diagne and choir member of Te Deum. Since 1997, Grace has been involved in collaborative choreography and performance. She has worked with Peggy Baker in Move, Behind the Kiln at Artword Artbar, Intersection Project in Toronto, Guelph Contemporary Dance Festival, CBYE Hamilton Nutcracker, AFLOAT with Marguerite Larmand and the Interdisciplinary Performance Group with Dave Wilson. Currently, Grace enjoys creating in three dimensions while focusing on visuals, sound, movement and composition for performance. Photo by Suz Images