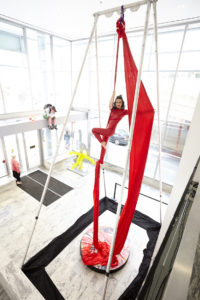 Want an aerial show for your next event? Find the answers here!
Don't see your question? Please contact us!
Can HAG perform outdoors?
Hamilton Aerial Group is available for both indoor and outdoor shows! We have a portable rig that is 19′ high with a footprint of 12′ x 14′.  We require 32′ x 16′ area to erect the rig (indoor or outdoor).  Outdoor shows require electrical access.
Is HAG available for bookings?
Hamilton Aerial Group is for hire for corporate shows, and its members are always interested in considering donating shows for a worthy cause. Please note that external fees such as union riggers and sound and lighting will be outside of HAG's control in such indoor shows.